Introduction
MGJ Engineering Brands Hatch Winter Stages
21st January 2017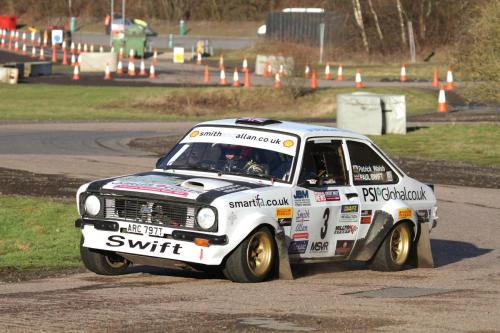 Paul Swift / Patrick Walsh  - Ford Escort:  Winners of the 2017 MGJ Engineering Brands Hatch Winter Stages  Photo courtesy of http://www.mandhphotography.co.uk
Special  Stage Rally Review TV Coverage
 Round 4 of the 2016-2017 Motorsport News Circuit Rally Championship.
 Welcome to the 2017 MGJ Engineering Brands Hatch Winter Stages.
A few small changes this year! Moving to a Saturday gives us an extra hour of track time allowing the first stage to start at 9.00 am. This also allows us to fit in up to 90 competing crews.
The format of the event will be much the same as our previous winter rallies with 8 stages totalling approximately 45 miles, stage diagrams will be on the website in due course. Scrutineering and signing on will be available Friday afternoon and Saturday morning.
A group discount rate of £70 per night B&B for a twin or double room has been agreed at the Mercure Dartford Brands Hatch Hotel, please quote reference 'Chelmsford Motor Club Competitors'. The hotel is likely to be full so I would suggest booking early, they can be contacted on 01474 854900.
Mick Johnson of MGJ Engineering continues his generous backing of the rally and our thanks go to him.
Lastly a big thanks to all those that work so hard to make the rally possible.
Tony Clements.
Event Director.